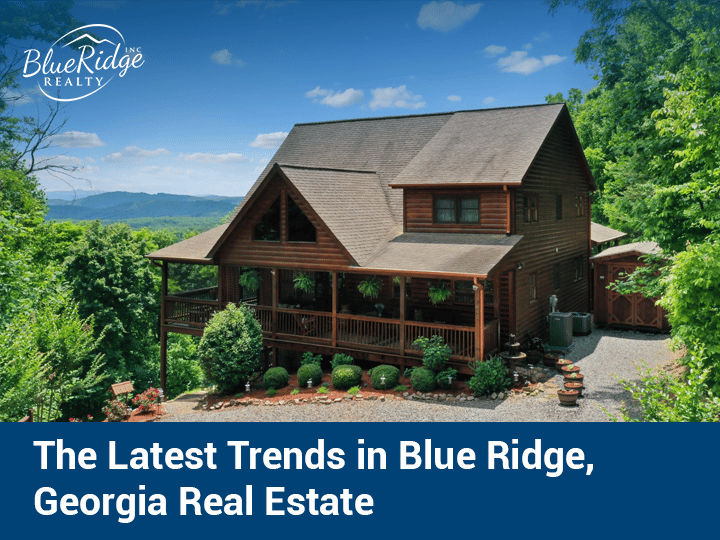 The Latest Trends of 2022, in Blue Ridge, Georgia, Real Estate
Blue Ridge in Georgia offers an excellent opportunity to have some skin in the real estate game. It is a town located deep within the Chattahoochee National Forest, among the mountains. The picturesque views are why Blue Ridge, Georgia, real estate has seen a significant boom in recent years. 
Blue Ridge is also popular among vacationers who desire to be cut off from their hectic work schedules. This small town is a prime example of peak southern hospitality. This is why most mountain homes for sale in Georgia sell like hotcakes. 
Latest Real Estate Trends in Blue Ridge
With flocks of people wanting to become permanent residents of Blue Ridge, it offers an excellent opportunity for investment in real estate. Here are the latest trends in Blue Ridge, Georgia, real estate.
Property Costs are Going Up!
Although Blue Ridge offers relatively lower housing costs than the rest of the country, they have steadily risen over the past decade. This year alone, the prices have seen an astonishing rise of about 17%. The demand for beautiful mountain homes for sale in Georgia never goes down, and Blue Ridge is a prime location, thanks to the panoramic views and peaceful neighborhoods.
The mountain town is strategically located near the intersections of US Route 76 and Georgia State Route 5. This makes traveling to cities like Atlanta a breeze. The connectivity of the town is perfect for someone who wants a break from the bustling cities without being too far away from it.
Currently, the average housing price in Blue Ridge is $2,10,000. Despite a steep 17% increase, it is still relatively affordable compared to the national average. However, the costs keep rising yearly, making investing in real estate a wise financial decision. Since Blue Ridge is still primarily a rural area, the housing prices have not peaked as much as in suburban and urban areas of the country, making Blue Ridge the ideal town to buy property in, whether it is for a secondary home or just as an investment.
The average price of a plot in Blue Ridge is about $50,000, while fully equipped luxurious homes can cost up to a whopping $3.5 million. This vast price range is why most realtors say there is a house for everyone in Blue Ridge. 
People Continue to Move to Blue Ridge
The high demand for mountain homes for sale in Georgia has resulted in steady population growth. While the population is growing at an average of 0.14% each year, between 2010 and 2020 alone, the population went up by almost 15%. The current population of Blue Ridge is about 1,400 residents. 
The ever-increasing population is a healthy sign that the real estate market in Blue Ridge shows a lot of promise. This leads to a higher demand for houses, which leads to higher property prices. Demand and supply! By investing in real estate before the prices go any higher, there is potential for significant upside.
Job Market in Blue Ridge is Booming
The economy in Blue Ridge has been booming, thanks to the rising job opportunities. Unemployment sits at a meager 2.8% in the region, and the job market has been touted to grow exponentially in the coming years.
The surrounding areas are home to several technical colleges and extensive telecommunications infrastructure, making it ripe for small businesses to grow. 
A Balanced Real Estate Market
The real estate market in Blue Ridge showcases a perfect balance. The demand for new housing and property is steadily rising, while the majority of the residents already own a home. A large portion of the residents also lives in rented houses, which also increases the demand for personal residence. 
However, the consistent supply of new mountain homes for sale in Georgia helps prevent the prices from skyrocketing and plummeting later. A delicate balance between demand and supply helps the real estate market growth in a stable fashion over a prolonged period.
Blue Ridge Attracts Hordes of Vacationers
With a massive influx of tourists and vacationers all year round, investing in real estate and renting them out can be profitable. Blue Ridge is perfect for people from all walks of life, with a wide variety of outdoor adventures, festivals, and a leisurely atmosphere.
Some families even consider buying a vacation home in Blue Ridge just to rent it to fellow visitors. A vacation home in Blue Ridge can easily generate a revenue of over $35,000 every year. An added bonus of having a vacation home is that you can visit Blue Ridge whenever you want. 
Retirees Prefer Blue Ridge
Blue Ridge is home to a large number of retirees, thanks to the low living costs, convenient healthcare options, and panoramic views. The town offers a slow-paced lifestyle, which is great to spend one's golden years in. However, this does not mean Blue Ridge is a sleepy hamlet. Quite the contrary! Blue Ridge is bustling with life, as it hosts numerous festivals and activities; there is something fun to do every weekend.
Young Families Move to Blue Ridge to Start a Family
Blue Ridge is appealing to retirees and young families alike. The tight-knit community, top-tier schooling options, and recreational spaces for children make Blue Ridge the ideal town to raise kids in. 
Raising kids and starting a family in the city can overwhelm many people, as finding peace and time for the increased responsibilities can be challenging. However, in a quiet town like Blue Ridge, children can receive a better upbringing without compromising on their future.
The Takeaway
Blue Ridge, Georgia, real estate market provides a stable option for investing or buying a new home. With the prices still considerably lower than the national average, the time to invest in a home is now. Whether you want to buy a house to move into or to use as a rental property for vacationers, you cannot go wrong with mountain homes for sale in Georgia.