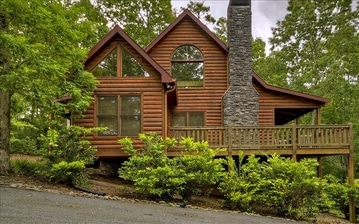 Why You Should Invest In A Mountain Home
Imagine waking up every morning to the whiff of fresh air scented with the aroma of wildflowers and the picturesque surroundings of sun-kissed peaks and gurgling waterfalls. Yes, the peaceful landscape of a mountain home can indeed transform your urban lifestyle and shoot up the quality of your life many notches higher, close to your fantasy. You can now plan to retire in the serenity of the North Georgia mountains and move away to your idyllic retreat to take a break from the urban hustle-bustle. Blue Ridge realtors can assist you in finding the perfect abode.
Irrespective of the real reason, one thing is certain, you simply won't regret the decision of investing in a house in the hills. Scroll down to figure out how investing in a mountain retreat can make you a tad happier by the end of the current fiscal.
Portfolio diversification:
It's crucial to diversify your investment portfolio to mitigate risks. An investment in mountain real estate cannot offer protection against losses; however, diversifying investments in properties at different locations can manage to shield your wealth against the negative market influences. In fact, you can invest in different kinds of properties like rented or single-family houses to reduce your risk further. Allow your financial advisor to choose the best asset for you. Get in touch with Blue Ridge real estate agents to find you a property for ideal investment purposes.
Taxation benefits:
When you plan to invest in real estate, be assured of obtaining tax benefits. That in itself is reason enough to invest in your dream mountain retreat. Find out the list of deductions and tax benefits you can avail of from different kinds of properties. You must engage a tax professional to get an inside view of the benefits that accrue from an investment in mountain real estate. There are several homes for sale North Georgia mountains that you can choose from. Call Blue Ridge realtors for help.
Flexibility:
Investing in mountain homes can open up multiple avenues of securing handsome returns over a period of time. For instance, you can choose an old house, renovate and refurbish it with the latest design elements and features and enhance the value of the property. It can fetch a reasonable price as and when you plan to sell it. The house could double up as a passive source of income in case you plan to rent it out to the vacationers, film production units, event organizers, etc. You can also build a luxury home in the hills customized with distinctive elements to make it more appealing to the buyers in case you plan to dispose of it in the future.
Low cost of living:
Mountain homes are far less costly than their coastal counterparts. So you can expect to maximize investment by pushing your budget more than usual. This is reason enough to settle for a more significant asset in the hills. Moreover, the cost of living in a city is far higher than in the mountains. Needless to say, investing in mountain real estate makes you smile more as you get to spend that extra bit on luxurious amenities and recreational activities at your hilly retreat.
Assured long-term returns:
Be assured of a long-term return if you are planning to invest in a mountain house. Buying homes in the mountains is on the rise, so it's a safe bet. This investment would rake in profits in all likelihood since the worth of mountain homes is set to appreciate over time. Hence acquiring an asset in the hills is a return-yielding investment worth every penny. 
Amenities and Lifestyle:
The tranquil North Georgia mountains are home to a gamut of recreational and adventurous activities. It makes it undeniably appealing to own a house in the region. The breathtaking landscape offers spectacular viewpoints which enhance the natural beauty of your new hill house. Life in the hills gives you more than one reason to remain active 24×7. Hiking, mountain trails, mountain biking, rock climbing, golfing, and many such amenities in your backyard make mountain home a worthy investment in the truest sense. 
Recommended Read: Things You Should Find Out Before Buying A House In The Hills
Wrapping Up:
To initiate an adventurous inning in the mountains, Blue Ridge realtors invite you to check the curated list of homes for sale North Georgia mountains and choose your dream home in the lap of nature. 
Seek the expert advice of Blue Ridge real estate agents to find a new house in the hills that not only fits your budget but offers a truly unrivaled lifestyle to talk about.