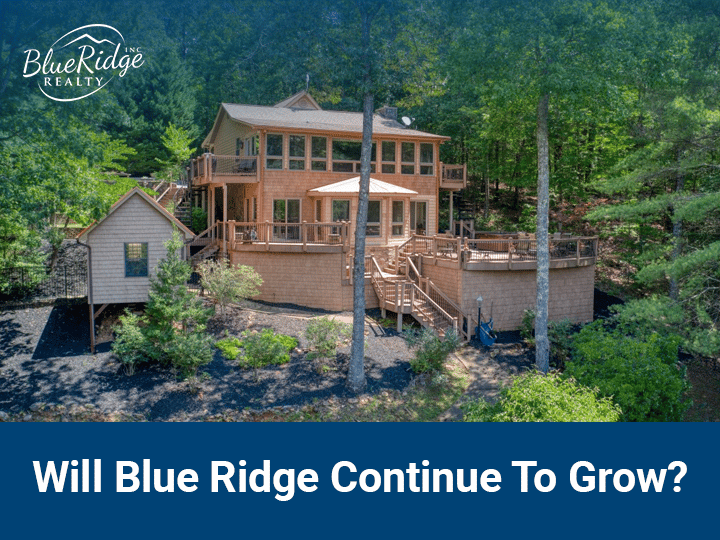 Will Blue Ridge, Georgia Real Estate Market Continue to Grow?
The market for Blue Ridge, Georgia, real estate continues to boom as a result of hordes of people migrating to this place for more than just vacationing. Over the years, the number of blue ridge houses for sale has skyrocketed, along with the constant demand for new blue ridge properties of all types.
Blue Ridge caters to all types of homeowners and visitors, from tiny log cabins that function as vacation homes to fully equipped luxury homes. The state of the real estate market in Blue Ridge is excellent. It is on a constant rise, thanks to the private and quiet lifestyle it can accommodate. The region experiences thousands of tourists annually who come to experience the beauty of the land and the rivers firsthand. However, a handful of these tourists fall in love with the balance of a secluded and adventurous lifestyle the region offers, and they decide to become Blue Ridge residents. 
This regular influx of people wanting to settle in Blue Ridge has led to the continuous growth of the real estate market. Combined with the upcoming developmental opportunities the region offers, Blue Ridge has one of the most lucrative real estate marketing in the country. Some critics still believe that the Blue Ridge, Georgia, real estate market will not continue to grow. However, all facts point to steady growth in a sustained way that does not compromise the region's quality of life.
Reasons Why Blue Ridge, Georgia real estate will Continue to Grow.
Our real estate experts believe that the real estate market in Blue Ridge will continue to experience an upward trend while still managing to remain a small town tucked deep within the mountains. Here are some reasons why the real estate market is trending upwards in Blue Ridge and why it will continue to do so for the foreseeable future. This makes Blue Ridge the pinnacle of small towns to invest in. 
1. The abundance of United States Forest Service Land
Some people fear that the steady influx of people moving to Blue Ridge will make it a congested city rather than a small mountain town, which is unfounded. This is because a large portion of Blue Ridge, Georgia, belongs to the United States Forest Service, which renders them unbuildable. This land cannot be bought and built upon by real estate developers, keeping the nature of the small town intact and without compromising on the charm of having a home in Blue Ridge.
2. Advanced Real Estate Strategies to Utilize Spaces Efficiently
The latest trends, like the preference for log cabins, have significantly implemented improved strategies for efficient space utilization. This allows developers to be limited and prevents overcrowding and congestion in the small mountain town. Furthermore, cabins take minimal building space, and as their demand rises, Blue Ridge, Georgia, can house more residents for a fraction of the space compared to an extensively luxurious mansion.
 3. Blue Ridge Properties Feature a Limited Number of Investors
Due to the small buildable areas in Blue Ridge, the number of investors committed to it is limited. Furthermore, most of these investors make the 'smart' decision to only invest in rental cabins. This allows Blue Ridge to enjoy a high-demand market for any potential investors. However, this makes investing in rental cabins a risk, which further dissuades seasoned investors from considering investing in Blue Ridge as they prefer big and busy markets that can generate instant profits. 
Extensive real estate markets generate instant profits as a result of constantly increasing development rates. However, the lower number of investors helps Blue Ridge secure higher quality real estate services as the risk of being neglected due to congestion and increased competition.
4. High-Quality Real Estate Agents
Although most real estate investors avoid investing in smaller regions, the real estate agents in Blue Ridge offer excellent services that enable the region to constantly keep growing without losing the charm of being a small town that offers a serene and quiet lifestyle close to nature. Most Blue Ridge properties focus on the fact that people move to the region to experience a quiet lifestyle, thus providing any new residents an authentic and unadulterated taste of the area.
The Bottom Line
The Blue Ridge houses for sale offer a unique living experience that is unparalleled throughout the entire country. This uniqueness makes up for the ever-growing Blue Ridge, Georgia, real estate market that does so without losing the very essence of being a small mountain town. Additionally, the several factors we mentioned above contribute greatly to the region not losing its charm, which is the biggest reason for its steady influx of tourists and new residents.