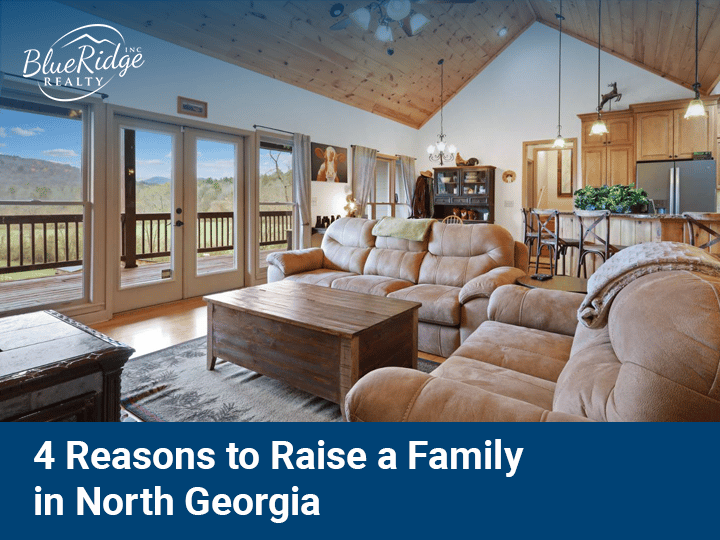 4 Reasons to Start a Family in beautiful mountain homes for sale in North Georgia
Raising children in a family can seem like a daunting task for any parent. While raising a child in the city has its downsides, doing it in beautiful homes in North Georgia provides a delicate balance between cost, facilities, and community. The mountain homes for sale in Georgia make the perfect fit for a new family looking to raise their children, from providing safe neighborhoods with a tight-knit community to having great school systems.
About North Georgia
North Georgia showcases the prime example of southern hospitality and has always welcomed new residents into its fold. The region is tucked deep within the Blue Ridge Mountains. It has been a popular vacation spot for adventure seekers and weekend vacationers alike. However, North Georgia is much more than a picturesque vacation spot. It is one of the prime places to raise a family or spend your leisurely years after retirement. The popularity of this area among young families is due to the combination of always being close to an adventure and having a slow, private life.
4 (Four) Reasons Why You Should Consider Home in North Georgia to Raise a Family
When moving, the most important consideration on any young family's mind is to pick a place that offers a better quality of life for them and their children. It can be difficult to pick a place to settle in; however, you cannot go wrong by choosing the North Georgia Mountains, which are filled to the brim with friendly neighbors, adventures, and breathtaking views. 
Here are 4 (four) reasons why North Georgia should be at the top of your list of places to move to.
1. You are Never Too Far from an Exciting Outdoor Adventure
Although North Georgia is popular among tourists during the summer season, you can have adventures all year long. The best way to have a healthy lifestyle is to enjoy the fresh mountain air as you take in the beauty of the Blue Ridge Mountains in all its unadulterated glory. The views are just the beginning of an adventure. If you are a thrill-seeker, the region is dotted with several trails you can hike along, meandering through the beautiful forests and opening up to spectacular waterfalls. There are activities like experiencing the Toccoa river swinging bridge, ATV rentals, or zip lining through the thick forests if you are an adrenaline junkie. 
The region offers a myriad of family-oriented adventures too. From hiking along the ever-popular Appalachian trail or fishing for trout in the Toccoa river to exploring the small islands on Lake Chatuge, North Georgia caters to all types of families.
2. The Neighborhoods Here are One of The Safest and Friendliest in The Country
North Georgia showcases southern hospitality at its best. The small towns of the region have tight-knit communities that look out for each other and are particularly welcoming to new residents and families. From swapping recipes and parenting tips to dog-sitting for each other, the neighbors are always happy to help one another—this kind of comradery results in a dismally low crime rate in North Georgia. The crime rates in the small town here are well below the national average and big cities like Atlanta. 
Besides the beautiful homes in North Georgia, the people are one of the biggest reasons new families choose to raise their children here. Every resident is hospitable and extremely friendly, making it a safe space for your children to develop solid personalities and make lifelong friends.
3. The Schools Here Offer Top-Tier Education Systems
When raising children, picking the right schools can be a defining decision for their growth and set them up for a bright future. Like every parent, you, too, would want your children to have the best education, which can lead to incredible opportunities. Although North Georgia has many small towns, the school systems here are one of the best in the country. Schools like Union County High School and Fannin County High School are the highest-rated schools in the region.
That's not all! The region also has several private and charter schools with enviable education standards. Furthermore, the neighborhoods in these small towns have ample community spaces for your children to make friends and play in, like parks and community swimming pools.
4. The Cost of Living in North Georgia is Very Low
North Georgia boasts a low cost of living, far below the national average. Even the mountain homes for sale in North Georgia are on the affordable side of the table. This cheap living cost allows new families that want to raise their children to spend more on their children than just the living and housing costs. The budget-oriented families prefer moving to North Georgia for this very reason.
The Bottom Line
Whether you are an adventure-oriented family or a family that thrives in a tight-knit community, the home in North Georgia offers you a splendid opportunity to raise your kids and grow your family in a safe and affordable environment. However, you should make a move soon because the mountain homes for sale in Georgia sell like hotcakes.