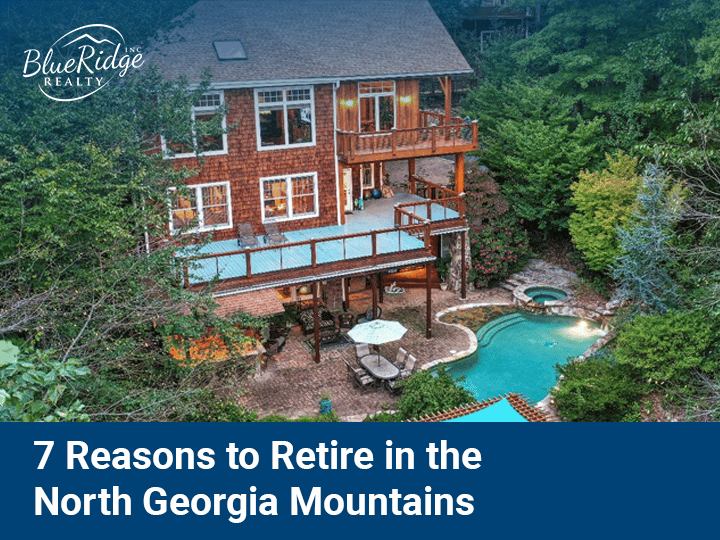 7 Reasons to Retire in the North Georgia Mountains
As any responsible citizen of the United States, you may be looking forward to retiring. After years of working hard, most people look up to retirement and dream of their perfect retirement destination. Typically, an ideal place to spend your leisurely years after retiring needs to be somewhere you can relax and unwind. North Georgia real estate provides you with the perfect opportunity for you to spend all your free time relaxing or indulging yourself in one adventure after another. North Georgia caters to all types of people, regardless of taste.
Here are 7 top reasons why the North Georgia Mountains are popular among retirees
Limitless Adventures and Outdoor Activities
If you are an adventure seeker, North Georgia Mountains offers endless activities for you to partake in. From hiking in the Chattahoochee National Forest to zip lining across the ridge or whitewater rafting down the rapids, the region caters to all. If adrenaline is not what you seek, you can always go on a horseback ride along the trails or go fishing. The area also offers a wide variety of hiking trails that lead to spectacular waterfalls and famed sites like the Toccoa River swinging bridge.
The Best of Mountain Life
Living in the mountains has a certain charm to it that no other location can even remotely offer. Instead of choosing to live among the hustle and bustle of a city, or the sandy beaches, living among the mountains offers you an opportunity to reconnect with nature. After all, nothing beats sitting back on your porch to enjoy watching the sun set over the horizon. This is especially true if your home offers spectacular mountain views right from the comfort of your porch or deck.
A Taste of Southern Hospitality
As a retiree, you will want to live in a friendly neighborhood. Although most homes in the North Georgia Mountains have plenty of real estate around them, you'll be closer than ever to your neighbors. With a tight-knit community, you can experience the best of Southern hospitality by living in this area, as everyone is kind, friendly, and willing to look out for each other and their best interests.
Affordable Cost of Living
While living in cities can be stressful for your budget, a home in the mountains can offer you an affordable cost of living. With the gradual rise in real estate prices, North Georgia Mountains provide sprawling homes for a significantly lower cost. Furthermore, the cost of living in these small mountain towns is considerably lower than the national average; from eating out to shopping, you can save heaps of money.
Great Connectivity
North Georgia Mountains are along the Tennessee border and provide easy accessibility from the Midwest, the east coast, and the South. These towns are also well-connected with major highway systems of the region, like the I 75, I 85, and the I 985. This makes it incredibly easy for your friends and family to pay you a visit as two major airports, namely Chattanooga International Airport and Hartsfield Jackson Atlanta International Airport, are equally close to these towns.
Wide Variety of Housing Options
Whether you want a sprawling, fully equipped mansion or a small log cabin in the mountains, North Georgia real estate caters to all kinds of property requirements. The homes on offer in this region come in a wide variety of all shapes and sizes. From historic homes to modern ones, these mountain towns have a home for every budget.
Generate an Income Source
Most retirees have trouble quitting their daily routine and work. Although some people take up full-time hobbies like gardening to keep themselves occupied, it cannot generate any income on the side. However, North Georgia is ripe for generating side income opportunities. Whether it is via selling art at local shows or opening a small restaurant, options come in plenty, and the choices seem endless.
Retirement is a perk you generate after working hard for almost your whole life. It is the time to lay back, relax and watch the world go by or to tick things off of your bucket list. Whatever the case may be, North Georgia mountain realty is the ideal place to invest in and settle down. The small mountain towns of North Georgia cater to all kinds of people and are one of the most ideal and coveted spots for people looking to settle down after retirement.