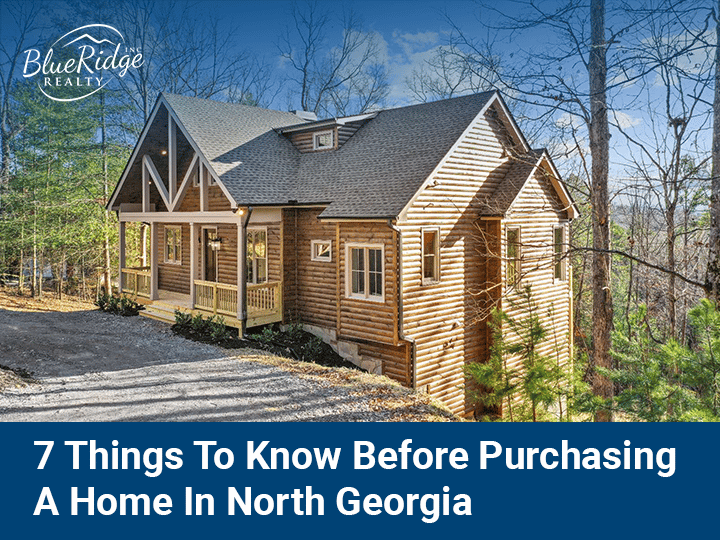 7 Things To Know Before Purchasing A Home In North Georgia
Living in a beautiful mountain lodge can be a dream come true. You can live surrounded by stunning views of the North Georgian mountains or near the Appalachian Trail. Blue Ridge provides the best fishing spots in the entire state of Georgia. North Georgia mountain realty can offer you the golden opportunity to live in your dream home at an affordable rate.
North Georgia offers amazing homes in Blue Ridge that are affordable and in neighbourhoods that have a low crime rate and amazing employment opportunities. Blue Ridge also hosts the world's largest Oktoberfest, which is another reason North Georgia is an amazing place to live.
Here are 7 things you should know before purchasing a Blue Ridge Mountain property.
Affordable cost of living.
North Georgia is an amazing place to build a home if you have strict budget constraints. Blue Ridge is ranked at 159 in terms of counties with the lowest cost of living. The affordability of North Georgia is because of the low median listing prices, which is way below the national average listing price of $254,900. Even places like Ellijay, which showcases the highest median listing prices in the state, are nearly $11,000 lower than the national average in the US.
Stunning Views
You can have a home with stunning panoramic views in North Georgia. The region is known for its enchanting vistas of the Blue Ridge Mountains. You are never too far away from a picturesque view and most homes come with backyards that open up and blend into the surrounding nature.
Low Crime Rates
Blue Ridge Mountains in North Georgia boasts a lower-than-average crime rate. The neighborhoods in this region are safe because of the tight-knit community. There is less crime in North Georgia. This is where the towns in North Georgia have an edge over big cities like Atlanta and the national average.
Great Place to Raise a Family
North Georgia is not renowned only for tourism, but also as a great place to raise a family. Towns in North Georgia are well known for housing elite schools that rank well in the US. Many of the area's residents are retirees who have moved to the Blue Ridge Mountains to spend their leisurely years. From constant festivals to community functions, you and your family will never run out of things to do in the towns of North Georgia.
Amazing Real Estate Investment Opportunities
You don't have to move to North Georgia to reap the benefits of the place. Maybe you do not wish to move here, but want to consider purchasing a rental property. The Blue Ridge Mountains provide ample opportunities for investment. The low prices of property combined with the booming tourism in the Blue Ridge Mountains make it a real estate investor's dream. From a lake home to a cabin rental, there is no shortage of tenants.
Outdoor Activities Galore
North Georgia Mountains is on the bucket list of every adventure lover. The area is chock full of rivers and lakes, making it a haven for boating, fishing and water skiing. Besides activities around water bodies, the Blue Ridge Mountains also offer several hikes along breathtaking waterfalls and suspension bridges. Countless adventures await anyone who comes to North Georgia.
Always Buzzing
You don't have to be an adventure seeker to enjoy North Georgia. The region also hosts many festivals and fairs, mostly in the fall. Ellijay's annual Apple Festival, Dahlonega's Gold Rush Days, and Hiawassee's Oktoberfest (you cannot afford to miss this) are some of the most renowned festivals here. Besides these big-time events, there are smaller family-friendly events nearly every weekend where the entire community takes part. In North Georgia, your calendar will never be uneventful.
Recommended Read:Things You Should Find Out Before Buying A House In The Hills
Finding Your New Home in Blue Ridge Mountain Ranges
The Blue Ridge Mountains in North Georgia have a home for every budget and for every person. Whether you are an adventure seeker looking for a lakeside cabin or someone who wants to start a family among the wilderness while having access to all the luxuries of modern life, you can find your dream home in North Georgia. We recommend you hire a professional North Georgia Mountain reality to help you find and land your dream house and transform it into your home; a place to call your own and raise your family or spend your leisurely years in the comfort of a safe neighborhood nestled deep in the Blue Ridge Mountains.