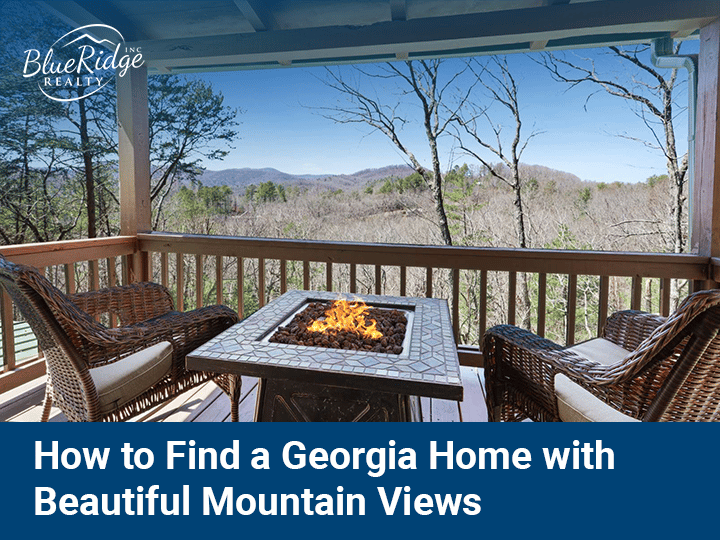 How To Find A Georgia Home With Beautiful Mountain Views
Everyone wants a home with mountain views to die for! The homes in North Georgia offer the best views of the sprawling mountain vistas. Nestled deep in the Blue Ridge Mountains, you can witness the greatness of these splendid peaks from the windows of your very own home.
If you are seeking out the perfect place to call home, you must keep three things in mind; location, location, and location! The view from your newly purchased home should be breathtaking, and that can only happen if your property has a mountain view. Though it is relatively easy to find a new property to purchase, finding one with a picturesque view requires some tweaks to your search.
We are here to guide you through the process of finding the perfect North Georgia Mountain realty homes with a mountain view.
Use our MLS search tool.
Our curated collection of home listings in the North Georgia mountains is constantly updated on our MLS listings. It makes the process of searching for a home easier. However, if you are looking for something specific (a house with a mountain view), the advanced MLS tool will help you.
To get to the MLS tool, you should click on the "MLS" tab at the top of our website. Pro Tip: Right-click on "MLS" and select "Open link in new tab." Doing so will make a separate page so you can easily navigate through it while reading this blog on another page to guide you better.
Fill out the Listing ID
Once you have entered the MLS listing page, you can now insert the listing ID and click on search to fetch the property details you want. It provides you access to all listings available on the market. However, if you do not have the listing ID, move on to the next step.
Go to the advanced search options
If you do not have a listing ID or are browsing for potential properties, click on the advanced search option. That will take you to our advanced MLS search page.
Fill out the fields according to your requirements
Select the property type among four options: residential, multi-family & apartments, commercial, lots & land, and rentals. Suppose you are looking for a home, select residential. Select the property sub-type (condominium, residential, or townhouse). Now, select the city or county or the postal code where you want to buy property. Select your budget (minimum and maximum price), the number of bedrooms and bathrooms, and the property area in either square feet or acres. Select the "sort by" according to your needs and hit search.
Select mountain view specifically
Now that you have a list of homes that satisfy every condition of your search, it is time to improve your results further. This is the most critical step. Type "mountain view" on the "special conditions" blank space. Or maybe if you are interested in a lake view, insert "lake view" instead. This makes sure you find a home that offers a mountain view as you require.
Browse through the properties
You should now be faced with a page showing listings of multiple properties following your search criteria. All you need to do now is click on the property that catches your eye. As an added tip, you should right-click on each property you like and select "open link in new tab." This will help you create a list of properties you like so you can go through them in detail later.
Read the property description, and features and go through the pictures
Since each property you have liked is open in an individual tab, go through each tab individually. Read the property description, what it offers and what amenities are available. Going through the MSL details is crucial as it contains property information like construction materials, home conditions, heating/ cooling, and appliances.
Most properties include a geo-tag. This helps you locate the house on a map and see the bird's eye view of the neighbourhood.
Contact the North Georgia Mountain realty company that has the property listed
Once you have gone through all properties, you might discard a few and shortlist a few homes you find suitable for yourself. Once you have a few houses you like, you can connect with the realtor. The realtor will help you schedule a tour of the property where you can examine the property in detail.
You need to add your name, email, and a short message in the "Contact us" section to schedule a tour.
Conclusion
Most North Georgia Mountain realty companies have professionals who will assist you in finding the right house for you. A local realtor can provide you with detailed insight into your property's neighbourhood. They also make buying new property hassle-free. You can find your dream home in North Georgia simply by scrolling through the realtor's MLS search page.